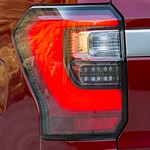 There are some beautiful leather seats on the 2020 Ford Expedition, and that is just the beginning. The interior for this vehicle is truly something to stand in awe of.
Ford wants their vehicles to also be known as some of the most technologically advanced technologies as well. This means ensuring that the touchscreen in their vehicles are the most sensitive to the touch and that they are as large as possible. This is what drivers of these vehicles are most looking for. They want something that they can show off to their friends and family, and they will have no problem doing that with the Ford Expedition.
Check out the amazing amount of space both for passengers and for cargo as well. These are critical additions that are incredibly helpful in getting more of these vehicles sold and into the garages of local customers. That is what every automaker wants, and that is what Ford has done.