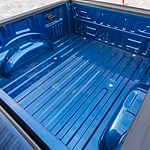 The new Ford F-150 is a tough full-size pickup that can be driven as a family vehicle or as a work truck. It gets its versatility in part from its tough features that allow it to be taken out in any road condition. Discover the appeal of the new Ford F-150 today.
To begin with, you can purchase it with the optional off-road package from Ford. This package adds features that let you take your F-150 out into the off-road. You can drive it in muddy fields, wet streams and gravel roads with ease. You can even take it out on rocky mountain paths without the worry of it getting stuck, fishtailing or toppling over.
The new F-150 also has a bed with an all-purpose liner. This liner prevents cargo from causing damages like scratches and gouges. It lets you stow and haul cargo like bricks, rocks and other materials.